What should you do when you're involved in a car accident?
Stop at the scene, assess your injuries and determine if you require emergency medical assistance and care
Be careful of the traffic when walking around the accident area, to assess the damage
Make note of the scene, take photos of the vehicles involved and the respective damage, and note down the information of the other parties, including their license plate, driver's license number and ICBC insurance if possible.
Call ICBC to report the accident and open up a claim. Notify them of any injuries and update them on any injuries that surface over the next few days.
It is a good idea to see a doctor as soon as possible, who will then probably. The doctor will likely recommend you to healthcare providers who focus on treating whiplash, such as physiotherapy, massage therapy or chiropractic care. However, if that is not possible you can start treatment with a Physiotherapist right away. A doctor's referral is not necessary to start treatment for your ICBC injury claim.
Please remember to discuss any abrupt onset of headaches, mental fogginess, light sensitivity, or other symptoms with your practitioner as you may be suffering from a concussion.
Keep notes on how you are doing and notify your practitioner of any sudden onset of additional symptoms.
What does ICBC cover after you have been in a car accident?
Physiotherapy, Kinesiology, Chiropractic, Registered Massage Therapy, Acupuncture and Clinical Counselling are a few examples of specialties that ICBC will pay directly for, with no user fees following a car accident. As long as you start treatment within 90 days of the date of your accident, ICBC will cover your treatment and Allied Physiotherapy Health Group will directly bill your treatments so you do not have to pay out of your own pocket. 
When should I start treatment after an ICBC accident?
ICBC often advises patients to get treatment as soon as possible. The advantage is that early treatment can speed up the quality and rate of healing, thereby helping to shorten recovery time and return to pre-injury function.
How to prepare for my first ICBC appointment with a Physiotherapist?
For your first appointment, you will want to arrive early and have your claim information with you so the clinic can directly bill your visit to ICBC. Please bring the details of your ICBC accident and injuries with you as your Physiotherapist will complete an assessment to identify your injuries and design a treatment plan. Make sure to wear comfortable clothing so we can complete a comprehensive assessment.
What if I start working with an ICBC-approved practitioner, and it doesn't seem like they are right for me?
Not to Worry; the benefit of being a patient is that you are in control and have the right to decide where to go to receive quality care.
Your practitioner, whether that is a Physiotherapist, Massage Therapist, Chiropractor or Kinesiologist, will require feedback from you on how you feel after each treatment session. This will enable them to modify their treatment to ensure that you are getting the best care to enable you to return to pre-injury function and thus achieve your goals. Communication is essential in any professional relationship, and consistent feedback is an important way to inform your practitioner on how effective the treatment is.
What will I feel after an accident?
In most cases, whiplash symptoms (pain, stiffness or tightness) appear within hours up to 2-3 days after the accident. For the first 24 hours, you can also experience shock, which is characterized by nervousness, weakness, a rapid heartbeat and increased breathing rate, as well as excessive perspiration.
Over the first few weeks, your whiplash symptoms could change, namely your pain could shift, and pain may surface in other areas. We recommend that you see your doctor or an emergency room physician after your accident to assess your injuries, evaluate for other possible injuries such as a concussion and internal injuries and refer you to any imaging that is required.
Counsellors are also covered by ICBC and they can assist you if you are experiencing difficulty with sleep, high levels of anxiety and fear of driving or being a passenger.
In conclusion, it's crucial to tell your practitioner about any symptoms/conditions that you did not have prior to your accident.
What does whiplash feel like?
Headaches, stiffness, neck and back pain are common symptoms of whiplash. These can result from injuries to the surrounding joints and muscles that occur with motor vehicle accidents. In some cases, you may also have tingling and numbness in the arms or legs due to nerve irritation.
How many times does ICBC allow me to see a physiotherapist or other practitioner?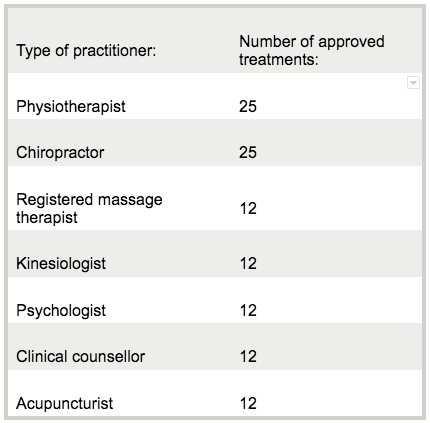 What if I require additional practitioner treatment sessions?
You can get treatment covered by ICBC for the first 90 days after your accident date. Prior to reaching 90 days post-accident your practitioner will submit a treatment plan to ICBC requesting additional treatments if needed. Once approved by ICBC, you can continue to receive additional treatment. We do our best to submit extension requests early, to ensure there is no lapse in treatment time. Our practitioners will continue to work with you to get you back to your pre injury level of function. All approved treatments with each practitioner can be direct billed to ICBC so you do not have to pay any user fees out of pocket.
Why consider Allied Physiotherapy Health Group for your ICBC injury Treatment?
Our multi-disciplinary clinics have multiple locations across Surrey, Whiterock, Richmond, Steveston and North Vancouver and our highly trained ICBC practitioners will provide you with an individualized treatment plan to assist you with your recovery.  Also, we do direct billing to ICBC and focus primarily on getting you back to your daily activities in a pain-free manner. We have experienced practitioners namely for Physiotherapy, Kinesiology, Massage Therapy, Chiropractor treatments, and Counselling who can attend to all your needs and assist you with a return to full function.
Please contact us today and book an online appointment so that we can help you!