Physiotherapy is one of the most important components of rehabilitation. If you have been in an accident, or are suffering from a long-term injury, Physiotherapy can help get you back to your pre-injury function. In this blog post, we will discuss everything you need to know about Physiotherapy: what it is, how it works, and how to find a Physiotherapist near you.
What is Physiotherapy?
Physiotherapy can be extremely beneficial after an injury. Physiotherapists are trained to assess and treat a wide range of injuries, from simple sprains to more complex problems such as back or neck pain. They will work with you to develop a treatment plan that is tailored to your specific needs. Physiotherapy can help to reduce pain, swelling, inflammation and help to improve range of motion, flexibility, strength and function. If you have been injured, Physiotherapy is something you should consider as it will get you back to health.
What conditions can be treated by physiotherapy?
Physiotherapy is a health profession that assists patients in the management of conditions that affect their quality of life. Physiotherapists work with people of all ages, from infants to the elderly, to help them regain or maintain their physical function. Physiotherapy can be used to treat a wide variety of conditions, including musculoskeletal injuries (joint sprains and muscle strains), neurological conditions (back and neck pain), and respiratory disorders. Physiotherapy can also help to improve fitness and well-being and prevent injuries from occurring in the first place. If you are suffering from a condition that is affecting your quality of life, consider visiting a physiotherapy clinic near you. Physiotherapy may be able to help!
Physiotherapists use a variety of techniques, including massage, mobilizations, exercises, and electrotherapy to help patients achieve their rehabilitation goals. Physiotherapy can be used to relieve pain, improve range of motion, and increase strength and endurance. In many cases, physiotherapy can help patients avoid surgery or other invasive procedures. If you are seeking treatment for a specific condition, it is best to consult with a physiotherapy clinic 'near me' to learn more about how physiotherapy can help you.
How do I know if I need Physiotherapy?
Physiotherapy is a vital healthcare service that helps people to recover from injury, manage chronic conditions and relieve pain. If you are living with an ongoing physical problem, or have recently been injured, Physiotherapy can help you to regain your strength, flexibility and movement. Physiotherapy can also help to reduce pain and inflammation as well as improve your overall well-being. So how do you know if Physiotherapy is right for you? If you are experiencing any of the following problems, it may be time to book an appointment at your local Physiotherapy clinic:

– A recent injury
– Nerve Pain
– Chronic pain
– Reduced mobility
– Joint pain
– Muscle weakness
– Balance problems
– Neurological conditions such as stroke or Parkinson's disease.
If you are unsure whether Physiotherapy can help you, a Physiotherapist will be able to assess your individual needs and devise a treatment plan that is tailored to your specific goals. To find a Physiotherapy clinic near you, simply search for 'Physiotherapy clinics near me' online.
How to prepare for my first ICBC appointment with a Physiotherapist?
You should arrive early and bring your claim information to your first appointment so the clinic can directly bill ICBC for your visit. Because your physiotherapist will conduct an examination to determine your injuries and create a treatment plan, please bring the specifics of your ICBC accident and injuries with you. Please dress comfortably so that we can conduct a thorough assessment.
What treatment does ICBC Cover?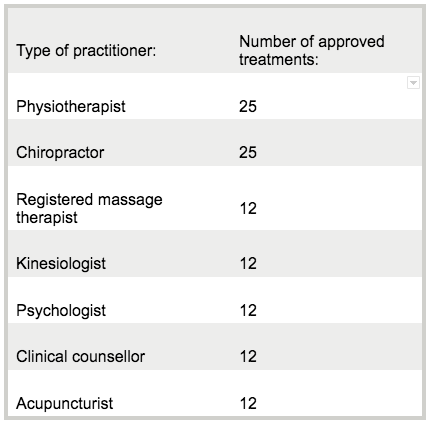 What happens if I need additional ICBC Physiotherapy sessions?
For the first 90 days following the date of your accident, ICBC will pay for your physiotherapy care. If additional treatment is required, your physiotherapist will submit a treatment update, prior to your end date asking for extra sessions. Once ICBC has given its approval, you can get more physiotherapy sessions. To prevent a lapse in treatment time, we try our best to submit treatment plan requests as early as possible. You won't have to pay any user fees out of pocket because ICBC can be directly billed for all approved sessions with each practitioner.
Why choose Allied Physiotherapy Health Group for Physiotherapy treatment?
Our highly skilled ICBC practitioners will provide you with a tailored treatment plan to guide and assist you in your return to well-being. We have various clinics in convenient locations in Surrey, South Surrey, White Rock, Richmond, Steveston, and North Vancouver. Additionally, we direct bill to ICBC and prioritize your pain-free return to your regular activities. We have skilled professionals who specialize in physiotherapy, kinesiology, massage therapy, acupuncture, chiropractor treatments, and counseling that can take care of all your needs and help you get back to full function.
Looking for physiotherapy in Surrey (Cloverdale)?
We have a team of experienced physiotherapists accepting new patients at our Surrey (Cloverdale) Physiotherapy and Sports Injury Clinic. Let us help you restore your mobility, regain functional independence, and achieve overall wellness. Please call us or book your physiotherapy appointment online today.
FAQs
What is physiotherapy and why is it used?
A physiotherapist works with patients to create specialized programs intended to restore their functional capacity and movement as much as possible. From infancy to old age, they are trained to assist patients whose function and movement are compromised by injury, disease or health problems.
Does Physiotherapy really work?
When administered by qualified and experienced practitioners, physiotherapy can be quite successful for most patients. Through the course of regular physiotherapy sessions, one might quickly find relief from persistent pain or reoccurring ailments.
What should I bring to my Physiotherapy Appointment?
Since the physiotherapist wants to get you moving, you should wear comfortable clothing e.g., a tank top or shorts that allow for unrestricted movement. If you want the clinic to submit a direct billing claim to your insurer, you need to bring your insurance information. Also, remember to bring your calendar to your initial appointment as your physiotherapist is likely to suggest a course of treatment for you that will require follow-up sessions in order to assist you in achieving your objectives.
About Howard Morris Reg. P.T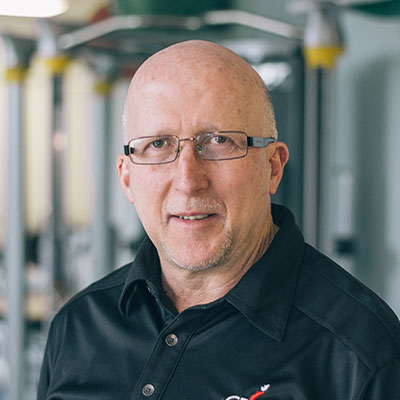 Howard Morris is a registered physiotherapist with the Allied Physiotherapy Health Group. He treats patients with various musculoskeletal conditions using patient education, progressive exercise therapy, manual therapy, muscle trigger point release and muscle energy techniques to restore full function.  His treatment philosophy involves providing his patients with the know-how to self-manage their injuries.  He aims to provide his patients with quality treatment and care that exceeds expectations.